7th November 2018
Rebecca Meade
20 Killer Marketing Strategies for Small Businesses
Every small business is unique. If you want to grow, you need a strategy that fits your needs, and is appropriate for the level of resources you have. All of these strategies, if followed, will help your small business grow in incredible ways. Some you'll want to put into practice right away, and others may well come in handy somewhere down the line.
We've grouped these strategies into five distinct categories to help you find the right one for you:
Social media
Mobile
SEO
Content marketing
Outreach
Social media strategies
Twitter
You'd be amazed how many brands simply post a tweet, perhaps with a link, image or video, and maybe a hashtag or four, and then… do nothing. Their tweets just just sit there, with little to no likes, replies or retweets.
The trick they are missing is that Twitter is a social medium (who knew?); it's about connecting with people and participating in online conversations, not tweeting in isolation.
Try these simple tactics and you will see remarkable improvements in just a few days.
Make use of lists
The list function is very underused on Twitter. It's a way to organise your feed so you're not just bombarded with an endless stream of tweets. Social media is about networking, and these lists will help you be more focussed.
Make a private list of Twitter users with lots of followers, who are relevant to your niche. You're looking for people who are followed by your target audience. These are the "influencers" we hear so much about.
When appropriate, make public lists relevant to your niche, like "top marketers", "best chefs" and so on. Not only will this provide value to your followers, it is a good way to flatter the people you ad to the list. It sounds obvious, but the more people like you and the more helpful you are to them, the more likely they are to return the favour and engage with your tweets. Speaking of which…
Reply to other people's tweets
This is really huge, and it's the most underused function. People feel like replies are less important than standalone tweets, but this is often not the case. By replying to tweets from popular users you have an instant audience that you might not have another way of reaching. Be careful not to be seen as competing with the person who you are replying to; you're on their turf and they can easily turn people against you. Try and make your replies positive and stay away from your rival's twitter feeds. The temptation to throw shade might be too tempting.
If you have a great idea for a tweet, rather than posting it as a standalone tweet, post it as a reply in a relevant thread from one of your key influencers. Ideally you should post it in a thread of a Twitter user with lots of followers. Try and post as soon after the initial tweet as you can; influencers are much more likely to like, reply to or retweet your reply if you're one of the first responders. Most users don't have time to sit around monitoring their threads all day, especially if they have lots of followers. You'll find that your posts regularly get hundreds and sometimes thousands of impressions after using this technique.
Build your follower base the smart way
Building your followers is essential in the long-run. To do this you do need to put in a bit of deliberate work.
Rather than mass-following people, select quality accounts you would like to follow.
You now need to increase the chances that they'll follow you. You should be supportive of them before getting them to do something before you.
Follow them, like their recent tweets; make supportive comments and retweet their posts when appropriate. Unless they're a twitter superstar they'll probably notice your attention. Remember that you're building a relationship, so don't try too hard, make sure everything you do is genuine, and don't make it look like you're fishing for a follow, even though you are. Be nice, be sensitive, be respectful, and be approachable.
Promote tweets
Paid-for promotional tweets are a guaranteed way to get your content in front of a relevant audience.
You can do this by clicking on the activity icon for any tweet, selecting a location and budget, and getting an indicator of the results.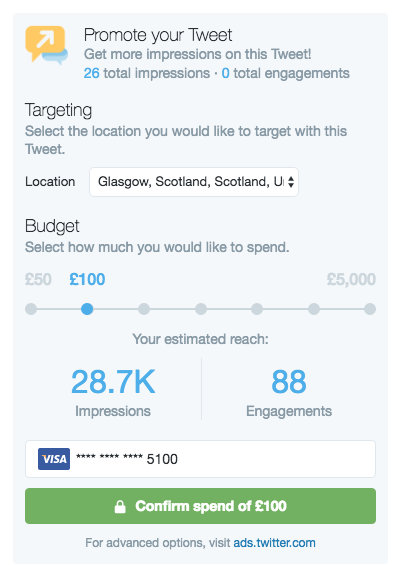 Before promoting a tweet have a clear idea of what you hope to get out of it.
Are you looking for retweets to get your content to a wider audience, or do you want more followers? Do you want to direct people to an off-Twitter url, like your website, or a YouTube video? It may help to add a call to action (CTA), like "RT to share this discount with your friends", "download our free white paper now", and so on.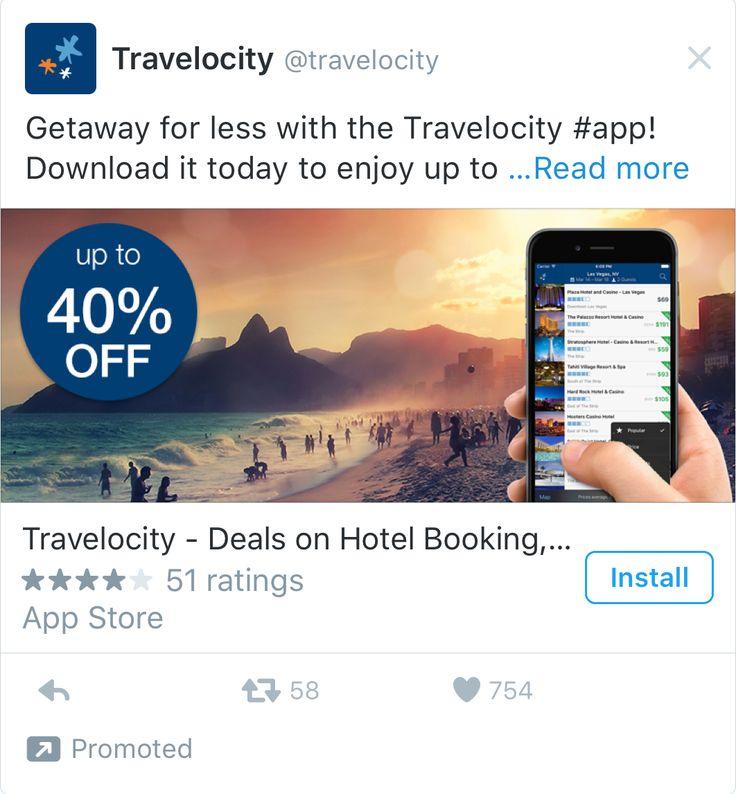 Take advantage of Twitter's media attachments to make your promoted tweet stand out in people's feeds.
Facebook
Whilst Twitter is about intervening in a fast moving, wide ranging series of conversations and involves a lot of work across various different threads, Facebook is much more focussed on building a community of interested people.
The centre of your Facebook activity should be your business page.
Make sure you have selected a page template that best suits your business needs.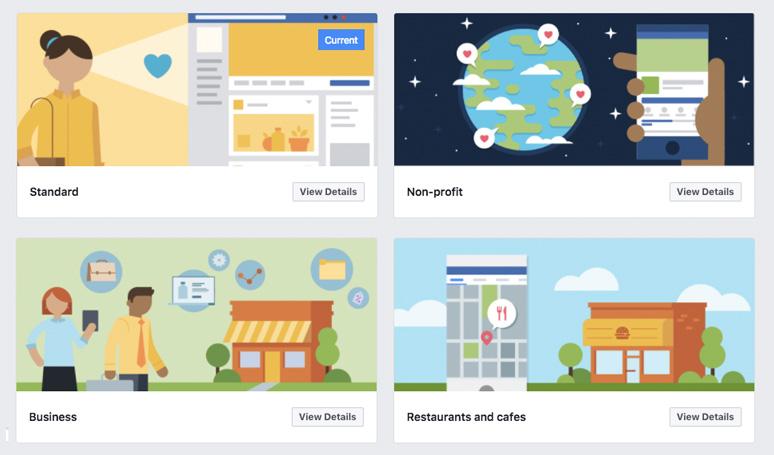 Facebook ads
Facebook Ads Manager is your best friend. Whilst it's possible to boost posts with the "boost post" function, you have a whole lot more flexibility going via the Ads Manager.
There are various different Facebook ad types available.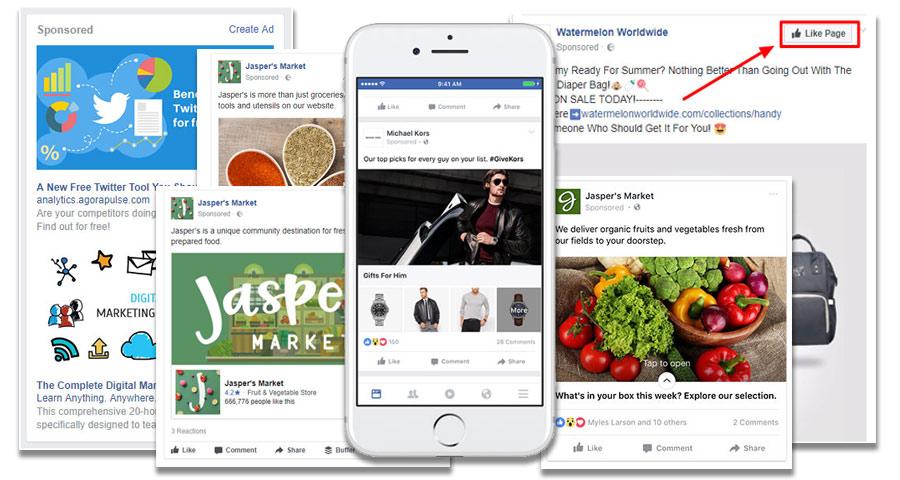 Before selecting one to use you should know exactly what you intend to get out of your ad.
Offer ads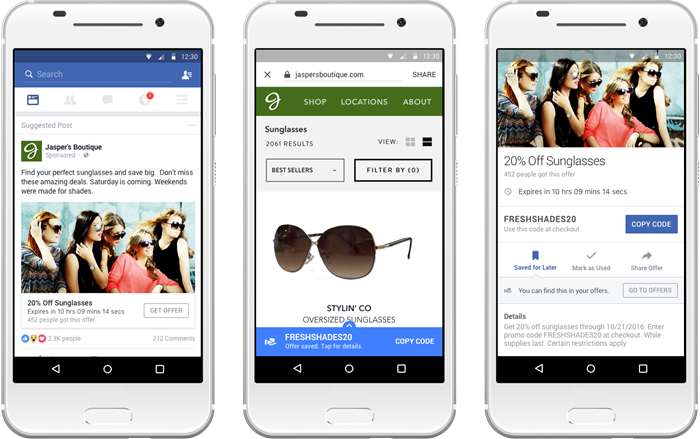 A lot of online marketing these days takes a "softly, softly" approach and avoids the hard sell. Whilst this is generally good advice, sometimes you just need to shift some units. If people aren't already motivated to buy your products it might be time to sweeten the deal with a Facebook offer ad.
To get the offer ad option you need to select either Traffic, Conversion, or Store Visits from the objectives section in Ads Manager.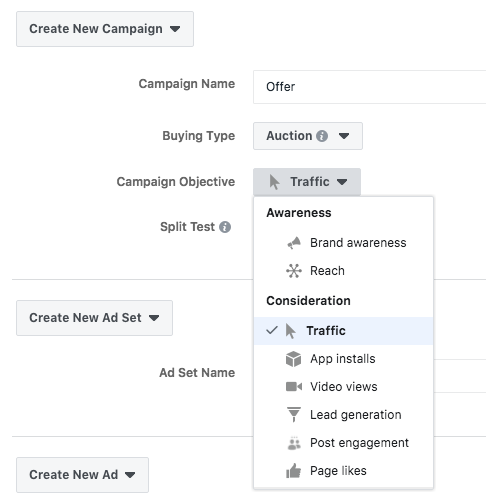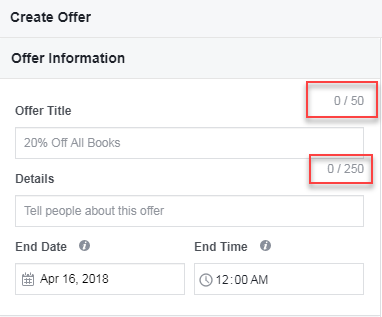 You can design your ad in a modular way, adding or taking away relevant functions.
You can also add general or specific promo codes and specify where offers can be redeemed; online, in store, or both.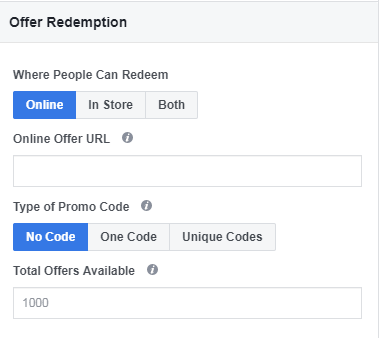 Video Ads
Video is very underused on Facebook despite the fact that users spend five times as much time looking at video than static content.
Your videos don't have to have flashy production value, you can even make them on your phone, although you should probably invest in a tie-clip microphone to avoid poor sound quality, which can be more distracting than shoddy visuals.
The video editing functionality of free apps like iMovie on Mac or MovieMaker on Windows give you enough capability to make pro looking videos. If you want to make your video on your smartphone there are a range of free Facebook apps to spruce up your productions, like Ripl to add animation, and Legend to add text overlays.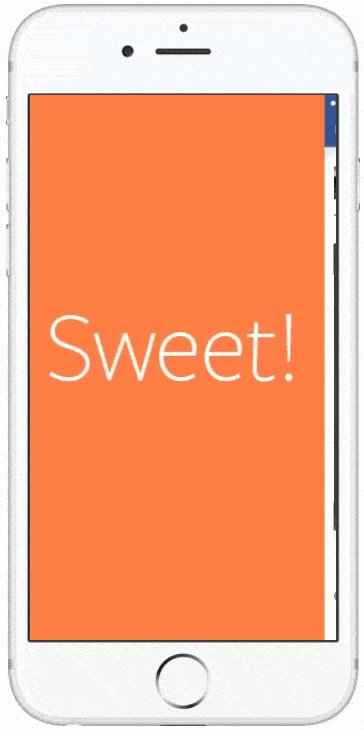 Facebook recommends you create videos in portrait mode for optimum mobile viewing, and that your videos be under 15 seconds in length.
You should make sure your videos make sense when watched without sound, because people might be watching videos in public, or distracted by other things on their computers. You can use the apps above to add text, and you should make maximum use of the ad headline, ad text, and link description to support your value proposition.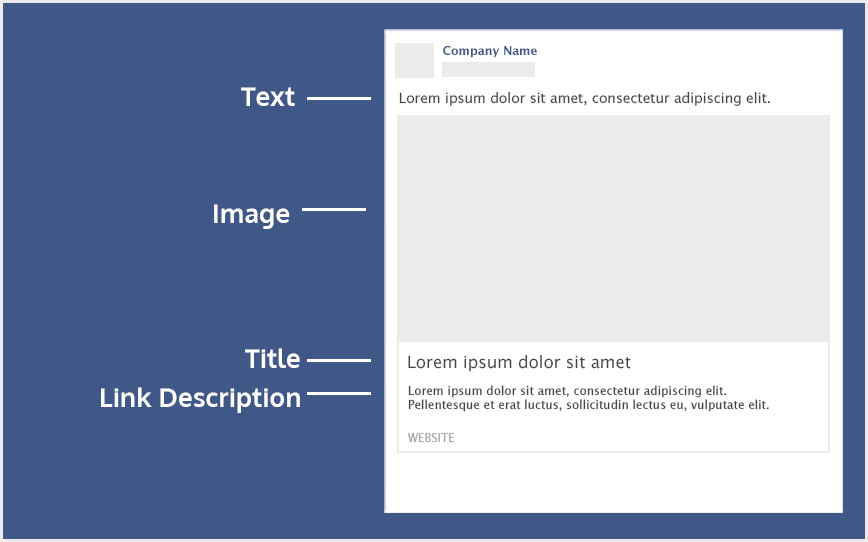 Instagram
Make generous use of hashtags
Of all the social media platforms, Instagram is the most hashtag happy. Because images are the primary focus, users aren't put off by a splurge of tags in the way they are on sites like Twitter, where text space is at a premium.
Before posting on Instagram, put yourself in the shoes of your audience and search for the kind of content you wish to create. How would you find your own products if you were a customer? What hashtags would you look for, and what search terms would you use? Use this information to brainstorm tags you can use and key phrases you can include in your image description text to maximise the chance of your audience finding your content.
You should also look up your competitors' accounts to scope out how they are using the platform. Focus on the ones who generate the most engagement. Learn from the best.
Build followers
Next you need to build followers. Don't just randomly follow people, target brands that complement your own and aren't direct competitors. Mostly follow people of your own size and standing, as well as brands one or two rungs up the ladder from you. These are the people most likely to follow you back. Next, check to see who is engaging the most with their posts. Click through to their accounts, and if they have a decent presence, follow them. They may well follow you back.
---

---
Engage
The irony is that if you want people to engage with your brand, you have to engage with them. Like people's posts, make comments where appropriate, and follow people you like.
Although you should of course aim to make regular posts to Instagram, you'll find you get much further much quicker if you interact with people. It's often a better way to stay active on the platform during times when you don't have any images to post.
Post images consistently
Consistency is far better than frequency when it comes to posting. Ideally you'd be posting one or two posts a day, but in reality you may not have the time to do that. Keep it consistent and make sure you check in regularly to respond to any messages or comments you've received. The good thing about Instagram is that it's linked to Facebook, so images you post can appear on both platforms.
Give people a reason to follow you
Most of marketing is about answering the customer's age old question; what can youdo for me?
Give people a reason to follow you and engage with you on Instagram. Music YouTuber Andrew Huang runs competitions to give away music gear; to enter you have to post a comment on his Instagram post, despite the fact that YouTube is his main medium. This is a strong way to drive people to your Instagram account.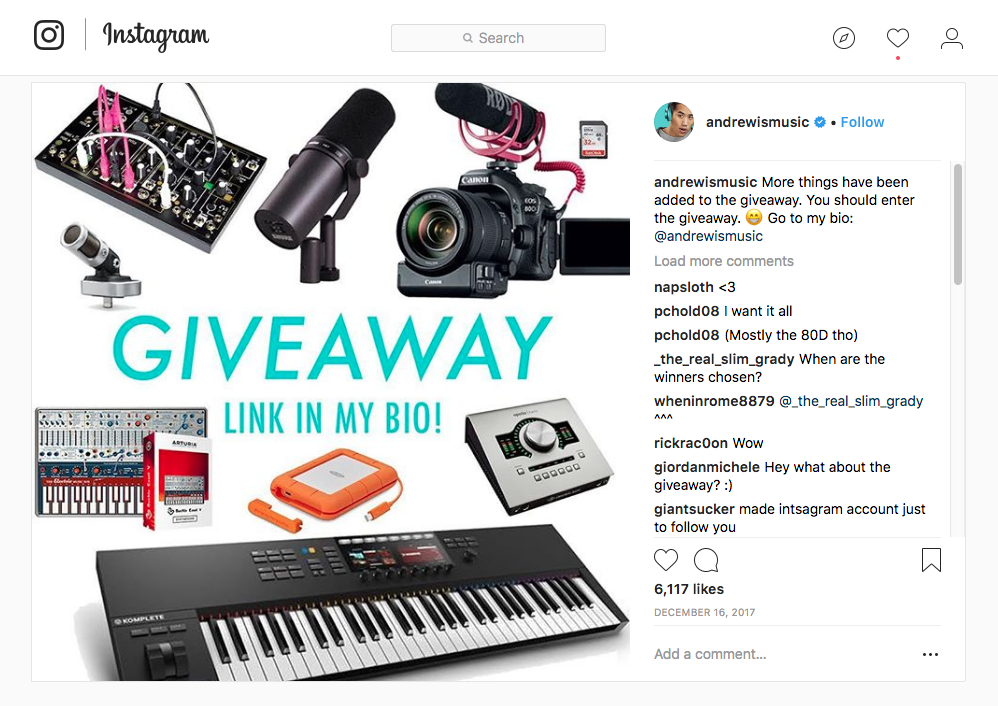 Promote your posts
You can promote your posts in-app by clicking the "promote" button, but you only have limited functionality that way. It's far better to promote your posts via Facebook Ads Manager (you can choose whether to post on Facebook andInstagram, or just Instagram). To do so you need to select one of Facebook's ad objectives that supports Instagram ads:
– Brand awareness
– Reach
– Traffic (for clicks to your website or to the app store for your app)
– App installs
– Engagement (for post engagement only)
– Video views
– Conversions (for conversions on your website or in your app)
– Lead generation
You can then target audiences based on factors like age, gender, interests and location.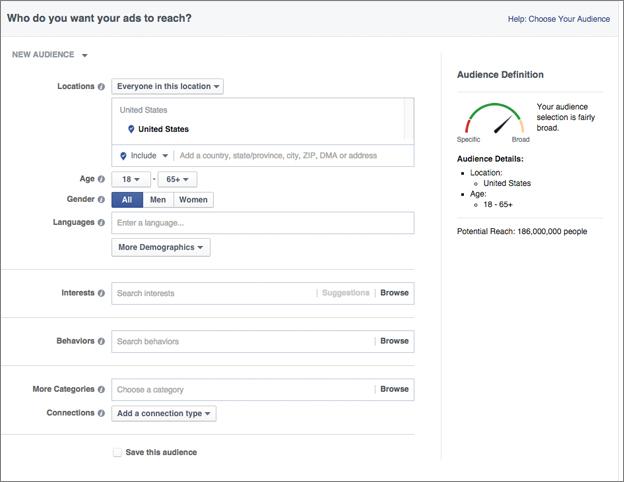 It's best to promote in 7 day blocks. Start off with a small amount like £50. This will give you an idea of how effective your ad is. Bear in mind that people don't like their Instagram experience to be interrupted with overly salesy ads, so you can just boost posts with a CTA if you want to keep things organic.
LinkedIn
If you're a B2B brand, LinkedIn is an absolutely essential aspect of your marketing strategy. Even if you're B2C, making connections with other service providers, influencers and supportive brands is still essential. See more about this in the Outreach section of this article.
You should think of your LinkedIn profile as being an interactive cross between your business card and your CV. It's also a blogging platform and permanent networking event all rolled into one.
Whilst creating your profile, check out other users in your niche; see how they present themselves, the kind of language they use, what type of profile photos they choose, and so on. Each industry has it's own vibe, and you should use your judgment as to how to construct your profile. Essentially it comes down to striking the right balance between the formality of CVs and official business writing, and the informality of social media and blogging. Keep returning to your profile every few months and ask yourself, "do I need to tweak this? Is it too formal/informal? Does this work, does that work? Should I change anything, is there anyway I can improve this?"
Connect with people… then talk to them!
It might sound obvious, given that's what LinkedIn is for, but it really is the be-all and end-all of growing your business through the platform.
Connect with people, then talk to them. Then repeat. Don't worry about 'getting it wrong'… most people are as interested in forming business relationships as you are, and most people also like talking about their industry.
Seek out your customers
LinkedIn users are typically an audience of professionals. It's possible they might not be your target audience, but these days it's highly likely a lot of them will be.
To do this, ask not what your audience can do for you but what you can do for your audience. Ask people about their business needs… offer advice. If appropriate, direct them to your website or social media. Just avoid being in a 'selling' mindset. People aren't fools; if they are interested in your services, and you have established a relationship, they will make the first move (although technically it will have been you who made the first move.)
Show interest in your audience
Follow people and check out their feeds. Like stuff they post (if you genuinely dolike it… don't be fake). Leave comments where appropriate (when you actually have something to say). If you show an interest in people, they will feel warmly towards you and want to give something back. This may be by liking and commenting on your feed in return, leaving a nice endorsement… or even making use of your services.
To read the rest of this article visit- https://appinstitute.com/small-business-marketing/
This article was written by Nabeena Mali and published on https://appinstitute.com/